About
The Blue Blazer Comedy Tour was created to answer the rising demand for smart, witty, sophisticated stand up comedy.
The tour features a rotating lineup of nationally renowned, intelligent, pop culture and politically savvy comics. These comics feature material on politics, business, office life, current events and issues, and money. Comics who have been featured on the Blue Blazer lineup include:
Kevin Meaney (HBO, Leno, Letterman, star of TV sitcom "Uncle Buck")
Eddie Brill (Late Show with David Letterman)
Bill Burr (HBO, Comedy Central, Chappelle's Show)
Ted Alexandro (Comedy Central, Letterman)
Johnny Lampert (Comedy Central, Montreal Comedy Festival)
Steve Robins (Carolines on Broadway)
Strictly Business Entertainment produced the first edition of The Blue Blazer Comedy Tour at the Friars Club in early 2005, and is currently planning a national tour of the show.
You can book The Blue Blazer Comedy Tour for your event, business conference, college arena, or civic center. To do so contact Shap Sweeney at shap@strictlybizent.com.
Upcoming Shows
TBA
Past Shows
February 11th, 2005 at the legendary Friar's Club, NYC With Bill Burr, Kevin Meaney, Eddie Brill, and David Moore.
February 8th, 2005 at Carolines on Broadway With Kevin Meaney, Johnny Lampert, Steve Robins, and David Moore. See below for the Blue Blazer Comedy Tour Marquee Poster from Carolines on Broadway.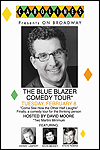 April 9th, 2005 at the JCC of Central New Jersey with David Moore, Ted Alexandro and Kevin Meaney.